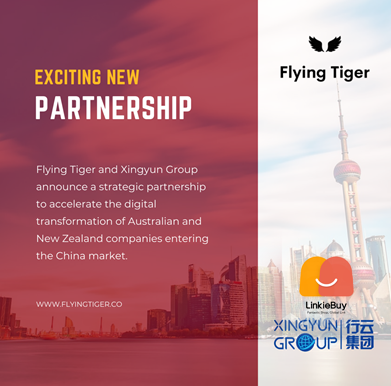 Flying Tiger marketing is excited to announce a strategic partnership with Xingyun Group, to launch LinkieBuy in both Australia and New Zealand, to provide a one-stop cross-border integrated solution for New Zealand companies to enter China through a seamless omni-channel e-commerce experience.
LinkieBuy is the world's largest cross-border digital service provider, for brands accessing the China market. Anchoring on their parent company Xingyun Group's worldwide warehousing and logistics network, LinkieBuy integrates its SaaS technology research and development with multi-channel online store deployment and operation solutions, to enable the digital transformation of Australia and New Zealand companies in the cross-border e-commerce channel in China.
Flying Tiger Marketing offers world leading services and products to help western businesses capitalise on the marketing and sales opportunities in China. In addition to our marketing partnership with Alipay, we are now able to support New Zealand companies to expand their business and unlock new opportunities in China via the WeChat platform.
Through this partnership with Xingyun Group, Flying Tiger's international team will be complimented by LinkieBuy SaaS solution, to help Australian and New Zealand companies in developing their own private domain traffic to unlock new growth opportunities. We focus on the key attributes of each channel's ecosystem, through brand building, to strengthen private domain traffic and retain consumers, in order to help Australia and New Zealand companies expand their business in China.
"We are hugely excited about our new partnership with Xingyun Group and LinkieBuy. Flying Tiger already has very strong capability and experience helping our partners developing successful marketing and sales strategies to attract Chinese customers. This partnership enables us to offer the most powerful end-to-end solution for brands wanting to access the lucrative Chinese market," says Flying Tiger's founder, Ken Freer. Flying Tiger is committed to providing the most comprehensive and valuable marketing and promotion services for Australasian SMEs and overseas Chinese companies, exploring the local and Chinese markets.